Indonesian Retrospective
Nias Island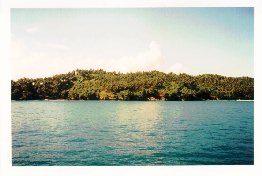 &nbsp &nbsp &nbsp &nbsp Nias is an island - 125km to the West of Sumatra - the size of Bali. The magnificent beaches and one of the worlds best surfing breaks makes it a popular tourist destination. But with the government hoping to raise the profile of Nias as a tourist spot by supporting a major surfing event and international hotel development does not bode well for the future of Nias - not in my opinion anyway.
&nbsp &nbsp &nbsp &nbsp The bus ride into Sibolga from Lake Toba was a nightmare or endlessly winding roads and hard braking. Quite a few of the people on the bus were sick, and many more came pretty close, but eventually we made it to Sibolga from where we would catch a ferry across to Nias Island.
&nbsp &nbsp &nbsp &nbsp The Ferry ride wasn't too great either, in fact it was worse - what was meant to be an 8 hour overnight trip turned into a 19 hour boat-ride from hell. In true Indonesian style, the ferry had set to sea at night, hit some rough weather and run for cover back at Sibolga - but no-one told us this and it wasnt until we woke up in the morning expecting to be within sight of Nias that we figured out what had happened. Luckily we had bought food and water along with us on the boat as none was available otherwise. By the time we got to Lagundri beach we were well due for a feed and a mandi.
---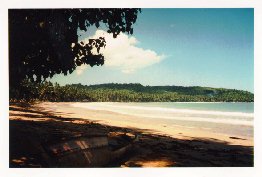 Lagundri Beach
&nbsp &nbsp &nbsp &nbsp Luckily, Lagundri Beach was really nice - situated in a horseshoe bay, it is sheltered from the surf for which Nias Island is famous. Although the beach was only thin, the coconut trees near the water created a really nice shaded area from which you could lay and read all day and the water was nice and warm so going in for a swim wasn't an act of bravery.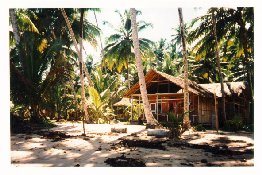 &nbsp &nbsp &nbsp &nbsp We had found a really nice losman to stay in, with rooms for only 3000 rp a night (about $AU2), which was right on the beach and had reasonable rooms and food. The surfers, mostly Americans and Australians, were staying further around the bay at the headland so where we were was reasonable isolated from the major tourist regions. This did not stop the locals from harassing us to buy there wares - mostly traditional carvings from the Niasans that we really had no desire to own. This became a bit annoying after a while and jaded the friendly Indonesian image that I had come to Indonesia expecting to find. Though I suppose the tourists are their own worst enemies - they find a nice isolated region to visit and the locals quickly find out their best way of making money is to exploit the tourists, thus destroying the area.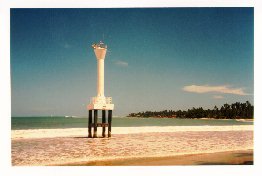 &nbsp &nbsp &nbsp &nbsp Things are looking a bit down for Nias actually, because of its popularity as a surfing and tourist destination there is a project to provide a world class hotel at Lagundri Beach which will severely change the face of the island. People come to Indonesia looking for untouched culture, what they will increasingly find is a souvenir shop and MTV.
&nbsp &nbsp &nbsp &nbsp Unfortunately I could only spend a couple of days in Nias, I would have liked to have spent a couple more days there, especially considering the trouble we went to to get there, but I had to return to Sydney to in time to go back to Uni which was starting in a few days time. It was at this point that I left my friends, who planned on staying at Lagundri for another day, and headed on to the last part of my journey through Indonesia - the journey home.
---
[ Index | 1 | 2 | 3 | 4 | 5 | 6 | Photos ]