&nbsp &nbsp &nbsp &nbsp After spending not nearly enough time in Nias, I had to spend the last three days of my holiday travelling just to make sure I got out of Indonesia on time. It was pretty tough leaving Lagundri Beach knowing that the next few days would be not much more than plane flights and waiting around.
---
Gunung Sitoli
&nbsp &nbsp &nbsp &nbsp The first step of my journey home was in getting on a bus to take me to Gunung Sitoli from where I could catch a plane to Medan. The bus ride was not too bad by Indonesian standards, I actually had a whole seat to myself, but the locals seemed to think my white legs were pretty funny and a protracted conversation in their local language about them. I got off the bus with great relief just outside Gunung Sitoli at the losman in which I would be spending the night.
&nbsp &nbsp &nbsp &nbsp The Losman was fairly expensive considering the room they gave me, but I couldn't be bothered shopping around for a better deal, and I had no desire to head into Gunung Sitoli itself as all reports were that it kinda sucked. So I stayed in this place which was reputed to have nice food, but the menu looked so expensive I opted for the usual Nasi Gorang (fried rice) - the cheapest dish on offer. The management did not look happy, I think I was the only person staying there and I was a miser in the cheapest rooms and eating the cheapest food.
&nbsp &nbsp &nbsp &nbsp I had asked the management how I was going to get to the airport in the morning and he assured me that the "car of Semak" would pick me up. This confused me for a long time until I figured out that SMAC was the name of the airline, and that the airline bus would be picking me up in the morning.
&nbsp &nbsp &nbsp &nbsp Indonesians have a saying for the way they treat schedules very casually - they say jam karet which means "rubber time" - in Australia we have a similar saying: running late. I waited anxiously for over an hour for the SMAC bus to arrive, not sure if it was ever going to come - if I missed the flight out of Nias I would have to reschedule all of my connecting flights, not something I really felt like doing. But the bus did arrive, though the plane ended up not leaving until two and a half hours late. It was lucky I had left myself a day in Medan to organise my flight from there to Jakarta, otherwise I would have been stuffed completely.
&nbsp &nbsp &nbsp &nbsp In the end the flight out of Nias was one of the best I have been on in terms of viewing conditions. It was a perfect day with only a few clouds in the sky and the plane I was on was small enough that it actually bothered flying around the larger clouds. I took a lot of photos out of plane windows while in Indonesia, the views from above are regularly quite spectacular, I remember one view I didn't bother taking a photo of because I knew it wouldn't turn out looking as good as it did from the plane; we were over the water and a few wispy clouds were forming on a cold front - the clouds leaving a double image on the clear blue water, one from the reflection and one from the shadow. I spent the whole flight looking intently out the window.
&nbsp &nbsp &nbsp &nbsp Inevitably, however, we landed and I was in Medan again.
---
Medan
&nbsp &nbsp &nbsp &nbsp We had passed through Medan on the way from Jakarta to Bukit Lawang, but we had barely even stopped before getting on a bus and leaving. This was to be my first real experience of Medan.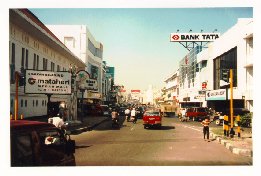 &nbsp &nbsp &nbsp &nbsp The first order of the day was to find a Losman, for this I depended on the trusty travellers Bible, the Lonely Planet Guide. I ended up going to the first place listed in the book, and the place closest to the airport. It was not a bad Losman though I tried to spend my time in Medan looking around - there wasn't much to been seen as it turns out.
&nbsp &nbsp &nbsp &nbsp I had to organise my ticket out of Medan - which I had transferred off another ticket I had booked to fly out of Padang - from Nias by phone. I wasn't anticipating any problems, but when I went to pay for the extra cost of my ticket at the Garuda office they told me what I had done was impossible. After much calm negotiation, I eventually figured out that, although they seemed to have no trouble cancelling my old ticket, they could not transfer the cost of the ticket - so I had to buy a whole new ticket which was, thankfully, properly booked.
&nbsp &nbsp &nbsp &nbsp After this fun, I wondered around Medan looking for something to visit. I settled on having a meal at a place called the Tip Top Restaraunt which was not bad, but beyond this, I didn't really find anything in Medan that I hadn't seen in any of the other cities of Indonesia that I had seen. Though I guess by this stage I just wanted to get home, I was travelling by myself and just wasn't all that enthusiastic about things as I had been. Also, I had called my parents for the first time in a couple of weeks and I was told that my Grandfather had just died a few days previously.. all in all I was pretty depressed by this stage.
&nbsp &nbsp &nbsp &nbsp The next morning I watched the opening ceremony for the Olympics on TV at the Losman, and again in the airport foyer waiting for my plane - previous to this I didn't even know when the Olympics were starting, I had pretty much been in a news blackout travelling through some of the more remote regions of this planet.
&nbsp &nbsp &nbsp &nbsp Night flights are not good things. You board the plane and get given a snack, then they feed you a meal, then they give you a drink and show a bad movie (Loch Ness starring Ted Danson - yipee!). They turn the lights off for two hours and suddenly wake you up for breakfast while it is still dark outside the plane.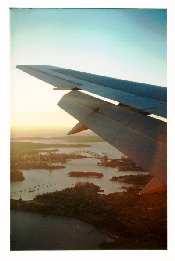 &nbsp &nbsp &nbsp &nbsp Having just been stuffed full only two hours previously I wasn't much in the mood for breakfast - my eyes were red from not enough sleep and too much reading in semi-darkness. Instead of eating I watched dawn from a plane, which is a pretty cool thing to see - the sun comes up above the horizon in front of the plane, but behind the plane it is still pitch black. The clouds hung low to the ground like a blanket in the cold air and the sun created an orange glow along the horizon.
&nbsp &nbsp &nbsp &nbsp Coming into Sydney was really cool, we came in from the North after circling around and around for a while so I got to take some photos of the Harbour Bridge and the rest of the city from the air. It was still only about 7:15 in the morning by this stage. We landed and I met my parents and one of my sisters at the airport, I was very glad to be home though I was somewhat exhausted from all the flights and travelling - I slept very well that night, in my own bed with springs and stuff.