Indonesian Retrospective
Jakarta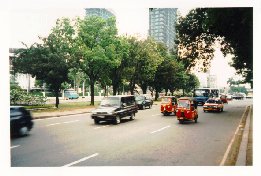 &nbsp &nbsp &nbsp &nbsp Coming straight from the leisurely pace of Yogyakarta, Jakarta was a rude shock. The expensive (by Indonesian standards anyway) accommodation was pretty shabby and the city itself was a worrying combination of modern high-rise buildings next to open sewers and slums. I am glad I only had to stay one night in Jakarta - I can not even comprehend having to live and work in this city unless it involved walking out of an air conditioned apartment straight into a air conditioned car and being driven to work where you would get out of the car and into a nice air conditioned office.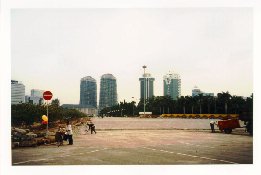 &nbsp &nbsp &nbsp &nbsp Despite the massive rebuilding going on in Jakarta, the infrastructure of the city is terrible - it is the victim of massive immigration from the farming regions of Java by the poor looking for work. The result is a modernised city center accompanied by large slum regions and a massive disparity between the rich and poor of the city.
&nbsp &nbsp &nbsp &nbsp There were a couple of interesting places to go in Jakarta, mostly national monuments constructed to show off the magnificence of the government and some relics of the Sukarno period of rule. We only really had time to visit the National Monument (Monas) at the center of Jakarta.
---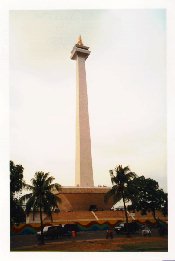 Monas - The National Monument
&nbsp &nbsp &nbsp &nbsp The National Monument is 132m high and is Jakarta's principal landmark and the most famous architectural evidence of Sukarno's extravagance. After taking fourteen years to construct - starting in 1961 - this phallic symbol (much like the Washington Monument only smaller - not that this means anything) is topped by a golden flame symbolising the nations strength and *ahem* Sukarno's virility.
&nbsp &nbsp &nbsp &nbsp At the base of the monument is a museum which tells the story of Indonesian independence in a whitewash of propaganda in the form of 48 dioramas. This is as far as we got into the monument as there was a two hour wait to catch the lift to the top of the monument which was far too long in our opinion.
---
[ Index | 1 | 2 | 3 | 4 | 5 | 6 | Photos ]